Eric Clapton took over London's treasured Royal Albert Hall for three performances this week... covering a Prince song for the first time and a Bob Dylan song for the first time since 1998!
Clapton is no stranger to RAH– he played there 55 years ago with the Yardbirds in the early days of his career. Since then, he's returned to the iconic venue over 200 times.
This week, he was joined by openers Jimmie Vaughan and The Tilt-A-Whirl Band and musicians Nathan East (bass), Sonny Emory (drums), Doyle Bramhall (guitar), Chris Stainton (keys) and Paul Carrack (organ) with Katie Kissoon and Sharon White on backup vocals.
Keep reading for the highlights!
Clapton kicked off his three-night stand with a reworking of "Que Será, Será (Whatever Will Be, Will Be)" as a tribute to the late Doris Day, who died earlier that day at age 97.
He included fan-favorites "Five Long Years," "Change the World" and "Holy Mother" and a fresh rendition of the Wailers' "I Shot the Sheriff," which featured a bass solo intro before surprising the audience with a cover of Prince's "Purple Rain."
Watch his electric encore of "Purple Rain" below!
Night two consisted of a similar setlist with a few surprise covers including Robert Johnson's "Little Queen of Spades" and Bob Dylan's "Alberta" from 1970's
Self Portrait.
(Last time Clapton played this gem was September 11, 1998!)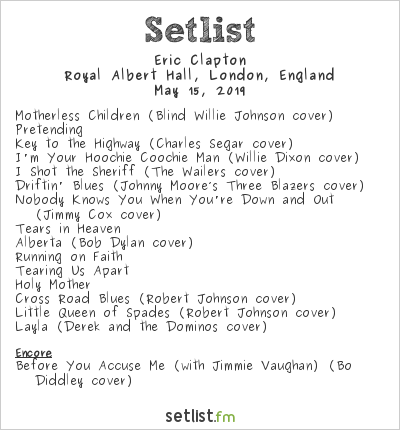 He also brought out Jimmie Vaughan for the encore, where the duo performed a cover of Bo Didley's "Before You Accuse Me."
Check out this fan clip of Clapton's "Alberta."
"I Shot the Sheriff" and "Holy Mother" were the highlights from Clapton and Co.'s closing night. Clapton combined his two encores from the previous night to make sure he went out with a bang.
Clapton may not be on an official tour, but he IS playing some select dates this summer. Visit his website for ticket info and dates!