Southern rock n' roll legends Lynyrd Skynyrd and ZZ Top brought the power of the blues back to Irvine, CA on Friday (Aug. 23). Currently in the midst of their Last of the Street Survivors Farewell Tour -- a reference to the 1977 album that was supposed to be the band's crowning glory, but instead became a devastating epitaph when a plane crash over killed lead singer Ronnie Van Zant, guitarist Steve Gaines and his backing vocalist sister Cassie.
But over four decades later with lead singer, and Ronnie's little brother, Johnny Van Zant has honored the legacy of the group with surviving member guitarist Gary Rossington. Thankfully Skynyrd have continued to keep their powerful hits alive and better than ever, especially for someone like myself who has just seen Lynyrd Skynyrd for the first time.
But the night was bigger than anything I would have expected. With a legendary lineup including Cheap Trick and ZZ Top, these long-running rockers gave the perfect cherry on top of a summer evening in Orange County.
The night kicked off at 6 p.m. with Cheap Trick taking the stage with their classic beginning track "Hello There," which immediately gets the crowd into a glorious up roar of adrenaline and excitement, or at least the crowd that was there early enough for a 6 p.m. show to start on a Friday evening. Nevertheless, Cheap Trick performed as if they were the headlining act going on at 9 p.m. and gave a wholesome set right at golden hour.
Lead singer Robin Zander & Co. rocked the early arrivals with Cheap Trick staples like "She's Tight" and "Tonight It's You." Of course they saved their trifecta of hits for last including "I Want You To Want Me," "Dream Police," and "Surrender."
Check out Cheap Trick's full setlist from FivePoint Amphitheater in Irvine, CA:
Shortly after Cheap Trick's departure from the stage, Alabama's very own Lynyrd Skynyrd began their 14-track set to an erupting crowd. AC/DC's iconic "Thunderstruck" mega hit blared over the larger than life amps before the band kicked off with classic Skynyrd hit "Workin' For MCA," fan anthem "Skynyrd Nation," and of course "What's Your Name?" -- and that was just the first three songs!
The "Sweet Home Alabama" rockers continued to roll out all their hits throughout the evening. By the time Van Zant & Co. arrived to the danceable yet politically charged single "Saturday Night Special," which tackles the issue of gun control. The entire crowd was officially on their feet complete with drinks raised to the sky before transitioning into the bluesier melodies of "Tuesday's Gone" and "Simple Man."
Heritage Not Hate
Before sliding into the instantly recognizable intro chords of "Simple Man," Van Zant allotted plenty of time to honor the U.S. military and their families. Fully equipped with an American flag draped around his microphone (similar to that of Steven Tyler with his accessory scarves) and another flag stitched into the back of his patriotic denim vest, Van Zant shared with the crowd, "Family is the most important thing to us and there is nothing better than our Skynyrd Nation family!"
Dedicated to former and current U.S. troops, "Simple Man" bled red, white, and blue across the stage with video clips and photos of U.S. soldiers with their families.
By the end of their set, Skynyrd brought the enormous power of classic southern rock to Orange County with essential tracks like "Gimme Three Steps," "Sweet Home Alabama," (which Van Zant appropriately prefaced the track with "heritage not hate" to promote the most positive experience possible) and quite possibly their most iconic hit to date "Free Bird" for their encore.
Before the band returned to the stage to perform "Free Bird," the gave the audience plenty of time to scream "Freeee Birrrrrrd" in their most stereotypical southern drawl before footage of former lead singer Ronnie Van Zant appeared on the jumbo screens to sing the haunting lyrics he wrote before his unexpected death in 1977.
Current singer Johnny Van Zant only stayed on stage for the first two verses of the song before leaving the microphone center stage with his older brother's hat sitting over the microphone surrounded by the band's iconic guitar solos toward the end of the track. It's safe to say the crowd rocked out to their heart's content with, quite literally, the last of the street survivors of Lynyrd Skynyrd.
Check out Lynyrd Skynyrd's latest setlist from FivePoint Amphitheater in Irvine, CA: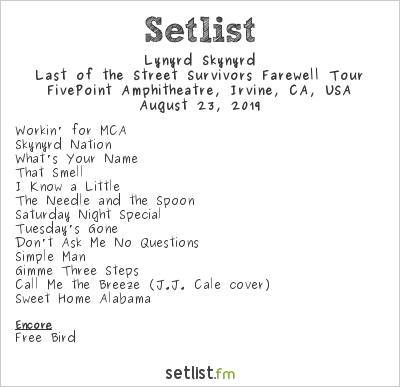 As the celebrations continued throughout the night, nothing tops a true rock and roll celebration than honoring groups who have made it to their golden anniversary. For some, that can be longer than most rock star marriages, but for concert goers it means a reflection on the last 50 years of music. For the final act of the night, ZZ Top completely reflected their last 50 years with a fulfilling 16-track setlist.
Guitarist Billy Gibbons and bassist Dusty Hill took to the stage revving up the crowd with a slew of guitar chords that shredded all the way before they kicked of their set with hit "Got Me Under Pressure" and Sam & Dave's "I Thank You."
The rest of the evening was complied with heavy ZZ Top music and slight on chat. The band almost took fans on a chronological journey of the last 50 years through their biggest hits and fan favorite tracks. The earlier half of the set stuck to more of a pre-MTV era with tracks like "Waitin' for the Bus" and "Jesus Just Left Chicago."
It was not until the 1983 mega hit "Gimme All Your Lovin'" where drummer Frank Beared drummed up a dance party beat to gear the audience steady for the ultimate rock n' roll show. He managed to continue the hype into "Pearl Necklace" before moving into the bluesy soul of "I'm Bad, I'm Nationwide."
The night came to a close with songs the band admits they can not leave without performing, "Sharp Dressed Man" and "Legs," ahead of the encore tunes, "La Grange" and "Tush."
Though they've played them over 1,000 times, according to Setlist.fm data, they launched into them with smiles appearing through the thicks of their beards, no less joyful for the chance to once again roll them out for listeners who've been around for the last 50 years the band's been playing.
Check out ZZ Top's latest setlist from FivePoint Amphitheater in Irvine, CA:
Curious to see where ZZ Top or Lynyrd Skynyrd is headed next? Head over to Skynyrd's or ZZ Top's website for all tour date info and don't forget to check back with Setlist.fm for all official setlist and tour updates!