When MTV launched August 1, 1981, it was all about music videos, and bringing Top 40 music to cable TV subscribers.
But eight years into its run, the network realized that not only it needed to broaden it's appeal and approach, but it could spread its wings in interesting ways.
Namely they could let these great musicians show off their talents minus all the production gloss of the '80s, without the backing tracks and layers of keyboards.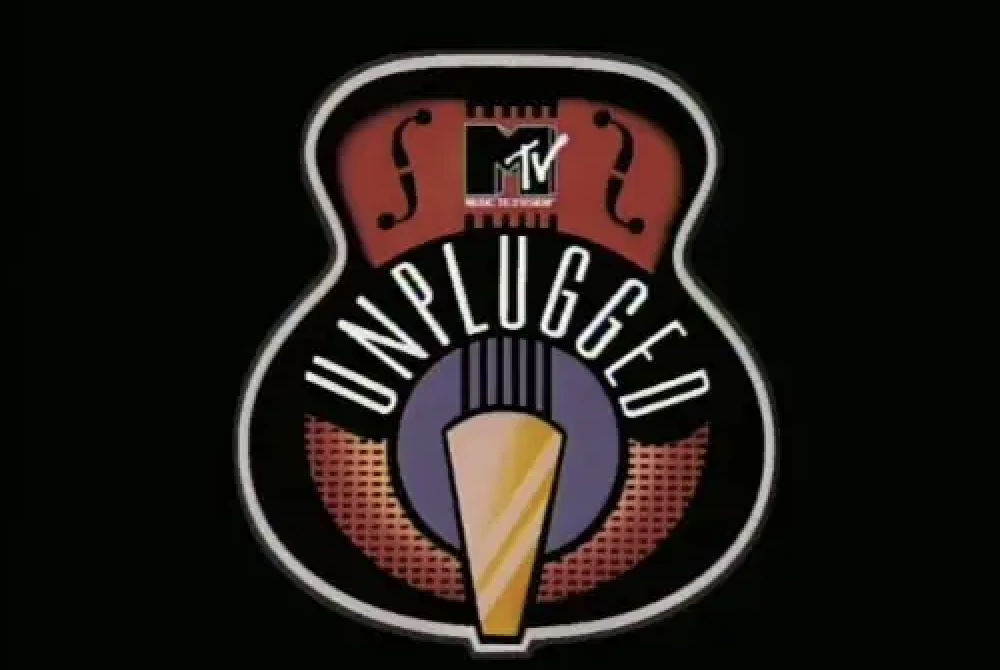 Indeed, sometimes if a musician or a band is really, truly gifted, all they need is an acoustic guitar, a stand-up bass, and some brushes on a snare and the soul of the tune can ring even truer.
MTV's Unplugged at its best was exactly that.
Nirvana - "Where Did You Sleep Last Night"
Some bands tried extremely hard to get on Unplugged so they could slightly rework songs in their catalogue in order to rejuvenate the interest in their older, overlooked, or new work.
But Nirvana was punk rock to their soul. Of the 14 songs they played that night in New York in late 1993, four were from Nevermind, three from their new album In Utero, one was off their debut, Bleach, and the remaining six were covers.
Half of those covers were from their friends, The Meat Puppets, who joined them in the global spotlight. Who does that? A true Gen X punk rocker who knows if corporate magazines still suck, so does a corporate tv show that might have a set designed with candles and stargazer bouquets, but at the end of the day it's about moving units.
So yeah, it's no surprise "Teen Spirit" didn't make it onto the set.
Nirvana's set was all done in one take. Kurt smoked and cursed. And ended with the haunting Leadbelly cover that showed off his tender and painful voice.
Fun fact: at the beginning of the song, Cobain talks about how he asked David Geffen to buy him the $500k Leadbelly guitar, but the billionaire owner of Geffen Records (who signed Nirvana "the year punk broke") passed.
Last month a smashed guitar of Kurt's sold for $600k. But the guitar he used at the Unplugged session garnered $6 million at a 2020 auction.
Mariah Carey - "I'll Be There"
Mariah Carey was another artist rewarded with the stripped-down MTV Unplugged approach that often times distracted from her natural talent. Sure, they packed the stage with a gazillion background singers, but Mariah's stood out with ease. Especially after she got up off that stool.
Carey live-debuted her cover of the Jackson 5 classic that night for Unplugged. It was so compelling on TV that when her label put it out as a single it went straight to #1. She's performed the tune over 250 times since then, including at Michael Jackson's memorial service at Staples Center shortly after he died.
Alice in Chains - "Rooster"
If singer Layne Staley's vocals weren't dark and creepy enough, seeing him on the Unplugged stage with what looked like Kool-Aid hair dye and scruffy yet pale face helped bring home the fact that Alice in Chains wasn't.
While Nirvana might be embarrassed to have five singles of an album get on the Top 40, one wonder if Layne even noticed. He did seem down in the hole. He did seem like he'd been in a box.
These were all aspects that were missing in the heavily produced music videos. But on Unplugged, not only could we see those eyes, but we could hear the plodding bass of Mike Starr, and damn could we hear those perfect backing vocals and haunting lead guitar of Jerry Cantrell.
Bob Dylan - "Shooting Star"
In 1995, kids watching MTV were given heaping helpings of Coolio, Dr. Dre, Alanis Morissette, Weezer and Green Day.
There was zero room for anything from 54-year-old Bob Dylan on the network.
Until he slid on his sunglasses and played a two night engagement at Sony Studios where he dusted off "Tombstone Blues" for the first time in 10 years, live debuted the 20 year-old "Hazel," and unearthed "With God On Our Side" for the first time in six years.
When the album of these sessions and TV episode was released it went gold, peaking at #23 in the US charts. It would be his last live gold record. And what a beauty.
Jay-Z - "Izzo"
With the Roots backing him, background singers, strings, and a flute, Jay-Z could have been anywhere in the world. Thank god he was in front of those TV cameras.

Jay-Z with instruments behind him instead of wheels of steel was such a rich experience - and somewhat classy - that of course Jay would quote Shakespeare in the intro.