Blues legend Riley B. King, better known as B.B., was born today September 16th, 1925. He passed at the age of 89 on May 14th, 2015.
To celebrate The King of Blues' birthday, we're looking back on the last live performance he played on October 3rd, 2014.
He was 89 but the King played a 6-song set (can't confirm if the setlist is incomplete) at the House of Blues in Chicago that fans would never forget. King was known to perform 250 performances a year during the peak of his career, and this was his last dance. He was meant to play eight more shows after, but had to cancel due to his health problems.
The night started with the B.B. King Introduction Jam before he went on to perform some of his most celebrated numbers, including "You Are My Sunshine," "The Thrill is Gone," and set closer "Darling You Know I Love You."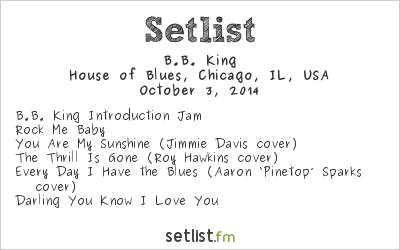 "The Thrill Is Gone" was King's most performed song, followed by "Rock Me Baby."
Happy Birthday and Rest in Power to the KING!