Last night (September) English rockers New Order hit the stage at The Piece Hall in Halifax for their first gig since March of 2020. Fans were thrilled to celebrate the return to live music in such an architecturally impressive venue, with such an iconic band.
The band kicked off the career-spanning set with their 1993 hit "Regret." About half way through the set, they live debuted their 2020 single, "Be a Rebel." Check out fan-shot footage of the debut:
For this world can be a dangerous place
But it's all we got, and it's quite a lot
New Order closed the main set with their two most-performed songs to date "Bue Monday" and "Temptation" while the 3-song encore was all Joy Division songs, "Love Will Tear Us Apart" putting a cap on a memorable fall night. See the full setlist below: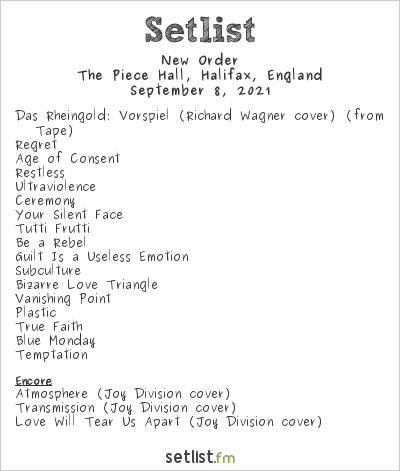 New Order are slated to play Heaton Park in Manchester this Friday, September 10. Their co-headlining tour with Pet Shop Boys has been rescheduled to 2022. Dates here.