Typically the opening act of show is an up-and-coming band who needs just a little bump to make it to the next level and warming up a giant audience might just be the thing that gives them the exposure they need.
Usually these acts only have an album or two under their belt and use the 20-30 minutes in front of the curtain to blast out their best songs and then quickly get out of the way for the headliner to give the people what they paid for.
But every now and then audiences will get lucky and have the chance to see an opening act that might be charting higher than the group whose name is on the ticket, or a young artist who is about to skyrocket past the field.
Here's a few of those rare instances.
Jimi Hendrix opening for the Monkees in 1967
In 1967, The Monkees were on fire, and not just on TV where they entertained kids and stoners once a week with their rock n roll satire.
In '67 they released their creatively titled second album More of The Monkees featuring smash hits "I'm a Believer" and "Daydream Believer. The record sold 35 million copies, outselling The Beatles' Sgt. Peppers, says Rolling Stone. So anyone who opened for the TV stars would be overlooked by their young and boisterous fans.
Monkee Micky Dolenz, who suggested the guitar slinger open for them, was surprised when the teens who were impatiently waiting for Davy Jones wouldn't stop cheering for the Brit teen heartthrob while Hendrix was shredding.
His opening slot didn't last long once the parents of the young girls complained to the promoters and others and Jimi was free to continue his first tour in front of more appreciative crowds.
Metallica opening for Ozzy in 1986
Ozzy was trying to turn his life around. In '85 he entered the Betty Ford Center to rehab from substance abuse. It was just a few years after his guitarist and friend Randy Rhodes had died. He was ready to get on the road to support his fourth solo album The Ultimate Sin and the new single "Shot in the Dark."
Osbourne has always been a generous headliner. He put Mötley Crüe on tour with him in 1984 when the LA rockers were emerging with Shout at the Devil. This was the tour where Ozzy saw a line of ants by the pool he was enjoying with Nikki Sixx and the boys, took a straw, and snorted a bunch of them.
But the Prince of Darkness was not ready for the quartet from the Bay Area. Metallica were on their third album, Master of Puppets, and they were lightyear's faster than Crüe, or even Ozzy. The one-two punch of "Battery" into "Puppets" grabbed the attention of the metalheads waiting to see Ozzy. As their set continued, Metallica quickly won the arenas over and received the best positive reinforcement an opener could get: an encore.
Ariana Grande opened for Justin Bieber in 2013
Ariana was 20 years old in 2013, as was her good pal Justin Bieber.
The Nickelodeon star was poised to release her debut album Yours Truly, a record that was three years in the works. The Venn Diagram of her current and future fans would be quite in line with those of Beebs who was on his Believe Tour.
Why don't the videos and photos look like the Ari we know now? Her hair isn't up in that now-trademark high pony.
Ariana only opened for Justin three nights in August: 8/7, 8/9, and 8/10 in Jacksonville, Tampa, and Atlanta, respectively.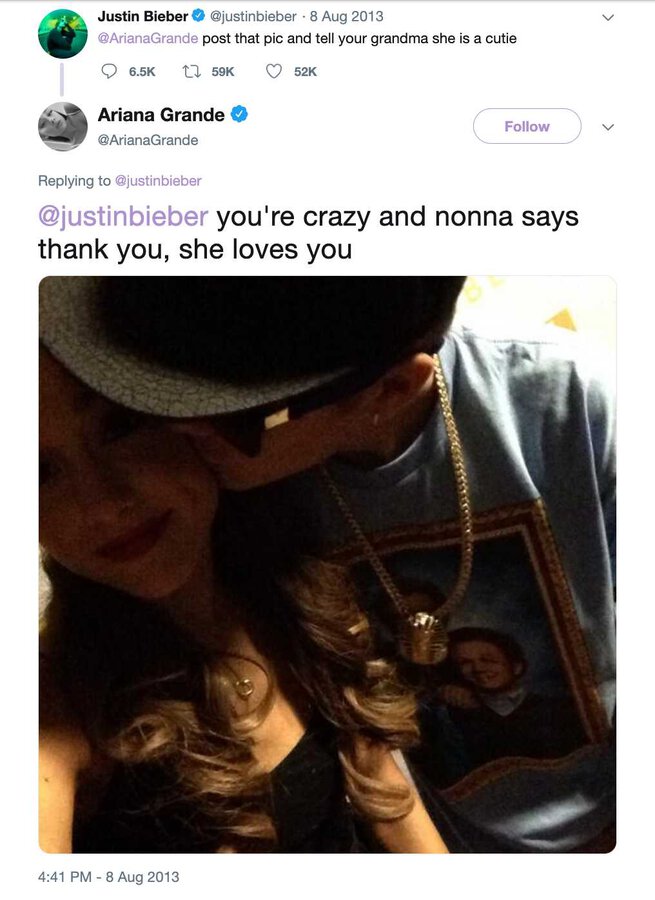 While there may not be a lot of video of the the brief time the pair toured together, they did make abuzz on Twitter when Justin told Ari to post "that picture," which she did, of the headliner kissing the opener on the cheek.
It happened during a pre-show Meet & Greet. Ariana's grandparents got to meet Justin. Apparently the grandmother had a crush on the young man. So Bieber told Grande to take a selfie of the pair to send to her Nonna.
"I just was smiling and he kissed me on the cheek!" she told MTV. "And I didn't know what to do. I just walked out of the room. I got shy. And then Scooter came after to me and said, Scooter says Justin says you have to post that picture. And I said, 'I will not.' "
She did post it, and eventually it was deleted. Que sera, sera. They'll always have Jacksonville.
Carrie Underwood opening for Guns N Roses earlier this year
Now this is a fun one and something we can only hope becomes a trend.
The long-legged American Idol doesn't just love hard rock and heavy metal, but she specifically loves Guns N' Roses and Axl Rose.
When she headlined Stagecoach last year she started the show with a recording of "Welcome to the Jungle" and performed two Guns tunes with Axl.
So this summer she signed on to open three gigs for the LA rockers. Why? Where else would she be able to cover Motorhead, Ozzy, Led Zeppelin, and Aerosmith?
Perhaps this will spread to other performers who want to do shorter sets of music their typical fan wouldn't enjoy, so they'll open for big acts who would appreciate a little crossover in the audience.
AC/DC opened for Thin Lizzy in 1978
Here's how quickly things can change in rock 'n roll. In the summer and fall of 1978, the Australian oddities, AC/DC were opening for Thin Lizzy. Great bill, and no disrespect to Thin Lizzy who at that time had released many of their classics that have beautifully stood the test of time.
AC/DC however, while jaw dropping live with Angus running around in his schoolboy outfit and delivering blistering solos, didn't have any real hits in the US.
All of that would change in the next two years when Highway to Hell (1979) and then the monumental Back in Black (1980) would become unleashed upon the culture.
And if you see the setlist of a typical show from their '78 Powerage Tour, you'll notice that despite "Whole Lotta Rosie" and "Sin City," the Aussies were way more into the live experience with extended solos in "Bad Boy Boogie" and "Live Wire" than they were in selling 45s at the record store.
So the next time you're waiting in line at the merch table before the headliners get on, and you hear the thumping inside the venue from the opening act, poke your head in there.

You might be seeing and hearing from the next big thing ever.