The Sky is a Neighborhood and so was CalJam '17 for a fleeting weekend in San Bernardino. The Foo Fighters-curated lineup was packed with pure rock and roll, and also served as record release show for the Grammy winning band. Watch Dave Grohl explain how he turned down the Hollywood Bowl in favor of turning it up LOUD with 21 other bands:
And what of the non-Foos? The Struts, Royal Blood, Wolf Alice, Cage The Elephant and The Kills were incredible.
The Struts played early in the afternoon, the sun glinting off Luke Spiller's sequined top. The pit was a bit sparse at first, as the crowd was still arriving and getting their bearings (and drinks!) but once the glam rockers launched into, "Kiss This," people flocked.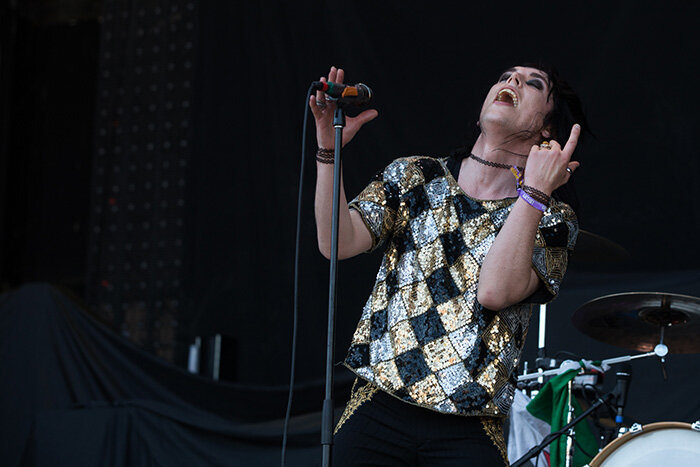 While I was getting the lay of the land, I happened upon the beginning of Bully's set on the Mountain Stage. The Nashville band opened with their most recent single, "Feel The Same," off their upcoming sophomore album. I watched them play, "Trying," led by Alicia Bognanno and her seafoam green guitar, before I hightailed it to Royal Blood's set on the main stage.
The Brighton garage rock duo have inspired many a "TURN UP THE RADIO" moments for me with their hits, "Lights Out" and "Figure It Out," which, of course, they played live. Respect to singer Mike Kerr for that Janet Jackson Rhythm Nation World Tour 1990 t-shirt he was wearing.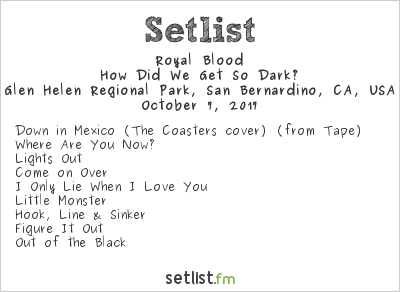 Confession: I was mostly there for Wolf Alice. The alt-rock Londoners played an intimate show in LA back in July that convinced me to follow them to the ends of the earth. Or at least to the Inland Empire. You can read that review here.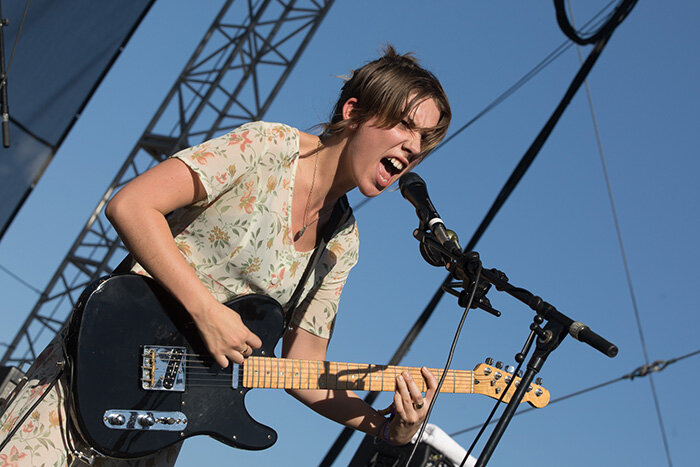 I was a little surprised that, after opening with "Don't Delete The Kisses," they front-loaded their set with two of their most mosh-inspiring tracks, "You're A Germ" and "Yuk Foo." No matter. I was there for whatever they doled out, from the ambulatory jammy songs to the whispery confessionals that quickly snap into snarls, because Ellie Rowsell is a dynamic frontwoman. 
Cage the Elephant opened their set with a cover of Tom Petty's "Last Dance with Mary Jane," frontman Matt Shultz announcing, "we are here to celebrate love and light tonight," a nod to the iconic songwriters passing and the tragedy in Las Vegas the weekend previous. The rest of the set was explosive - fog and lights and pyro - and also a slow striptease by Shultz, as he ended his set in his undies, socks, and shoes. You could say he puts it all out there, in more ways than one.
I only know two songs by The Kills but one time I died my hair red and blonde because it looked cool on Alison Mossheart. Although what WOULDN'T look cool on Alison Mossheart? Update: she is still a style icon and her stage presence is out of this world. 
And then there were Foos. They played a famously long set and as if it wasn't enough to invite all their talented pals to perform at the festival, they also had plenty of special guests on stage with them. Joe Perry, Rick Astley, Liam Gallagher... it was a jam, indeed.
See more setlists from CalJam here.
Stay tuned for MORE exclusive photos from CalJam '17!