If anyone knows how to challenge the norm, it would be Tool. A band who continues to thrive on album-based releases in an ever-changing impatient music scene, must be doing something right. In fact, the band hadn't even released any of their content onto streaming services until just a few months ago. And yet, even despite the constant pushback against the modern standard, Tool has managed to debut yet another top album and sell out an arena tour in a matter of days. Talk about an anomaly.
But what's even more impressive is the pure dedication of Tool's fans. Prior to the release of their most recent album
Fear Inoculum
in August, the alternative legends hadn't put out a full studio album in thirteen years. That's quite a long time for any band, let alone one as private and oppositional as Tool.
However, with a new album — which at one point featured all ten tracks on Billboard's Top Rock Songs Chart — under their belt, Tool has decided to begin a trek across North America on a tour in support of
Fear Inoculum
.
Originally kicking off the tour on October 13 at Aftershock Festival in Sacramento, Tool will take their North American run through over twenty cities before wrapping in the nation's capital on November 25.
So what's happened on the few nights of the tour thus far? Well, the answer's a bit complicated considering the intense privacy standards the band has set at every show. With limited documentation of the performances, Tool has ensured that their tour remain as ambiguous as possible, giving their fans the gift of surprise every night.
Fortunately, we've gathered as much information as possible in an effort to appease those who simply can't wait.
Starting with production, Tool has stuck to their progressive roots in art rock, utilizing nearly every production element you can think of. From the famous Tool heptagram overhead and unconventional horror-based costumes to the laser light setup and extensive monitor backdrop, it is clear that the metal gods have set out to amplify their show to the level they so rightfully deserve.
Of course, even with a band as reliant on live visuals as Tool is, the heart of the show rests in the music, and man does Tool have that covered. See a recent setlist here!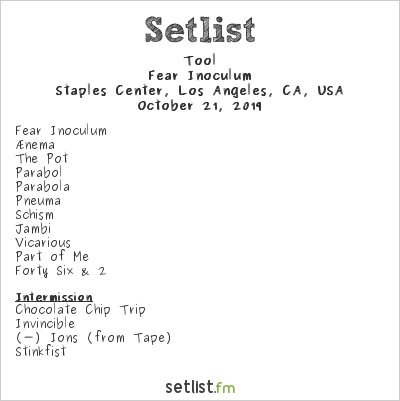 Yes, while it's true that Tool has only five full studio albums to pull from when it comes to creating a setlist, their catalogue of hits far exceeds the success of most competitive bands' entire repertoire. The music speaks for itself.
On the road in support of
Fear Inoculum
, it's not hard to guess which album Tool has utilized the most when it comes to crafting their setlist. For one thing, the band has stuck to the same set throughout nearly the entire tour, minus the opening festival gig. Yet even then,
Fear Inoculum
was at the forefront.
Featuring songs like
"Fear Inoculum"
and
"Pneuma,"
off of
Fear Inoculum
(2019),
"Ænema"
and
"Forty Six & 2"
off of
Ænema
(1996) and
"The Pot," "Jambi"
and
"Vicarious"
off of
10,000 Days
, the first set of the night has displayed the extensive genius of Tool throughout their nearly three decade-long career.
After a brief intermission, Tool returns to stage for a second and final three-song set, reminding fans exactly why they have remained so successful even thirteen years following their prior album release. Opening with two tracks off of
Fear Inoculum
including
"Chocolate Chip Trip"
and the twelve minute-long
"Invincible,"
the band gears up for the final performance of the night by nailing extended versions of each.
As if fans weren't already sneaking photographs and videos throughout the show, Maynard James Keenan (vocals) grants permission for the use of recording devices during the closing performance of
"Stinkfist."
With phone glares finally blanketing the open air above the crowd, Tool ends the show with a killer monitor visual that only extraterrestrials could truly understand. But what else would you expect from the horror-inspired band?
With limited internet coverage and numerous shows still lined up on their current tour, you won't want to miss your chance to see Tool live. Check out all of the remaining tour dates below and don't forget to grab tickets at LiveNation!
Tool 2019 North America Tour Dates:
10/23 - Glendale, Ariz. @ Gila River Arena 10/25 - San Antonio, Texas @ AT&T Center 10/27 - Houston, Texas @ Toyota Center 10/29 - Tulsa, Okla. @ BOK Center 10/31 - Milwaukee, Wis. @ Fiserv Forum 11/02 - Indianapolis, Ind. @ Banker's Life Fieldhouse 11/03 - Chicago, Ill. @ United Center 11/05 - Cincinnati, Ohio @ US Bank Arena 11/06 - Cleveland, Ohio @ Rocket Mortgage Fieldhouse 11/08 - Pittsburgh, Pa. @ PPG Paints Arena 11/09 - Detroit, Mich. @ Little Caesars Arena 11/11 - Toronto, Ontario @ Scotiabank Arena 11/12 - Toronto, Ontario @ Scotiabank Arena 11/14 - Boston, Mass. @ TD Garden 11/16 - Newark, N.J. @ Prudential Center 11/18 - Philadelphia, Pa. @ Wells Fargo Center 11/19 - Brooklyn, N.Y. @ Barclays Center 11/21 - Uncasville, Conn. @ Mohegan Sun Casino Arena 11/22 - Atlantic City, N.J. @ Boardwalk Hall 11/24 - Raleigh, N.C. @ PNC Arena 11/25 - Washington, DC @ Capitol One Arena