Thanksgiving is, of course, a time for family and giving. But for many, it's also a huge day for football. Watching the game has become just as much of a family tradition as carving the turkey and taking that sweet, post-dinner nap.
The Thanksgiving games usually serve up pretty tasty matchups, and the tradition continues this year, with the Detroit Lions hosting the Chicago Bears at 12:30 p.m. ET before the Dallas Cowboys welcome the Buffalo Bills at 4:30 ET (the New Orleans Saints head to Atlanta to take on the Falcons at 8:20 p.m. ET, but let's be real, we'll all be in our food comas by then).
Every year, the Cowboys partner up with the Salvation Army's Red Kettle Campaign – which helps provide shelter and meals to the homeless and the hungry – to sponsor a halftime show performance.
This year,
Ellie Goulding
will be taking center stage in Dallas. She's the latest addition to the Cowboys' long list of celebrity halftime performers, which over the years has included Carrie Underwood, Kenny Chesney, Enrique Iglesias, Jessica Simpson, Sheryl Crow, Destiny's Child, the Jonas Brothers, Selena Gomez and more.
With Dallas' Thanksgiving game tradition dating back to 1966, let's take a look back at some of the halftime performances over the years!
Sheryl Crow stole the show with her halftime performance at the Cowboys' old stadium in Irving in 2005, as the team took on the Denver Broncos. She played a "Good Is Good" off her new album
Wildflowers,
and "If It Makes You Happy" from her eponymous sophomore album.
Check out her stunning performance:
Country star Keith Urban performed three songs during the Cowboys matchup against the New Orleans Saints in 2010. He treated fans to a medley of "Better Life," "Days Go By" and "Put You In A Song."
He was on the road celebrating the release of his seventh album
Get Closer,
and lead single "Put You In A Song" had already earned a spot in the Top 40.
Watch the whole performance:
Enrique Iglesias took center stage in 2011, as the Cowboys took on the Miami Dolphins. He was touring in support of his latest album
Euphoria,
which spawned popular singles "I Like It" and "Tonight (I'm Loving You)."
Pitbull joined Iglesias on stage to perform "I Like It" and "I Like How It Feels." The latter was originally supposed to appear on
Euphoria
but later debuted on Iglesias' 2014 album
Sex & Love.
Check out the full performance:
Dallas native Selena Gomez took a break from her 2013 Stars Dance World Tour to perform during the halftime show of the Cowboys' matchup against the Oakland Raiders.
She and her band The Scene performed songs "Come & Get It," "Round & Round," "Naturally" and "Who Says."
Check out Selena and The Scene's halftime show:
Last year, pop singer Meghan Trainor took the stage in Arlington with a medley of greatest hits, which included songs "All About That Bass," "No Excuses" and "Me Too."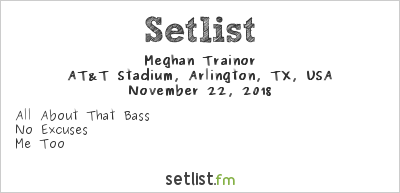 Watch her halftime performance:
Which songs do you think Ellie Goulding will perform at this year's Thanksgiving game? Make sure to tune in at 4:30 p.m. ET, and fill in her setlist.