The new decade is approaching in LESS than two weeks and the 2020 tours are already piling up! We can't wait for the plethora of shows that are about to come our way and the inevitable reunions that will get announced.
This past year we heard exciting news about our favorite artists, which we are hoping indicates a tour announce in the New Year - so shall we create a list of 2020 tours we hope, wish, and pray will happen this next year? Check out our top 10 picks.
Red Hot Chili Peppers (with John Frusciante)
Just the other day, RHCP announced that Josh Klinghoffer would be leaving the band after a decade and JOHN FRUSCIANTE will be rejoining! We'll miss Josh but this is some VERY exciting news... So can we get a full 2020 tour now? Because it's been a hot minute!
This year at Barcelona's Primavera Music Festival it was announced that in 2020, Pavement would be reuniting to headline the festival (!!!!) If the pattern of Primavera reunions indicate anything at all - it's that Pavement will announce a reunion tour around the festival. CROSSING my fingers that my favorite band in the world gets back together for a tour, it's been exactly 10 years since their last reunion tour so it's time!
MCR is performing a reunion show for the first time since 2012 on December 20th and then doing some international dates in the new year... So it's not too crazy to think they'll announce a full reunion tour for 2020.
It's been WAY too long since my girl Kylie has done a tour / played in the USA. I'll even take a Las Vegas Residency, anything to get my favorite pop diva here ASAP!
I think Frank will always be on my tour wishlist. He's put out a couple new songs this past year and he's only ever really played either festivals or one-off headlining shows in the past two years. Will 2020 be the year Frank gives us a full tour? Praying.
I will also put Rihanna on my wishlist every single year until it manifests. And how about a new album while we're at it? Thanks queen!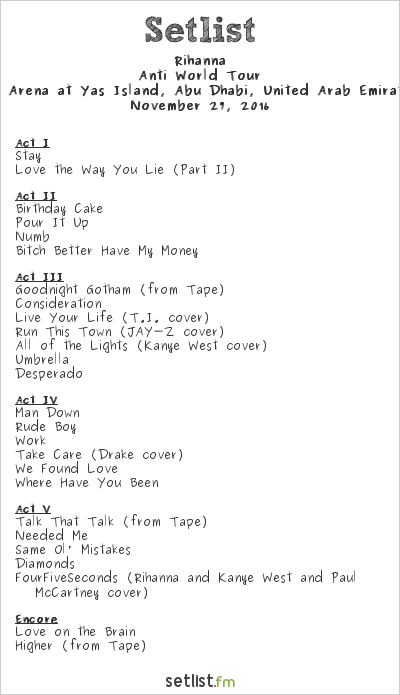 Rage is reuniting this year to headline Coachella and play some gigs around the festival. But we're dying for a full-fledge tour. I have a feeling this could happen.
Our favorite pop country trio is performing at ACL Live in February so it's not super outlandish to think they could announce a tour. Their last tour was in 2017.
Beebs said he was taking a break from music a while back, but now the pop artist is putting out new music and that could only lead to one thing... a tour?!
After seeing videos from Rocky's insane and mind-blowing concert in Stockholm last week, I can only hope that Rocky will take the show on tour in 2020. Most of his recent tours have been just festival dates, but we NEED a Rocky headline tour!
For photos from concerts and updates on setlists, follow Setlist.fm on
Instagram
and
Twitter
.