Ace Bandage
Concert

Setlists

& Tour Dates
Milk Cow Boogie
Music in the Air
Scary Monsters (and Super Creeps)
Burn
Gingerly
My Favorite Mistake
Be Deep
Fuel My Fire
To Be Ace
I Need Music
Your Party
High Speed
Dirt
Helen of Troy
Snuff The Torch
Dear Theo
Why Can't I Touch It?
Weirding
Wrecking Ball
Words Fail Me
...
Set Times:
Show:
10:00 PM
–
12:30 AM
Groove a Little
One Night
On Top of the World
Powerman
Fuel My Fire
Spin the World
Do-Wacka-Do
Gelly
Living the Dream
It's Not a Thing
Cajun Moon
Time Marches On
I Don't Want To Leave You on the Farm
The New Cool Style is Totally Lame
Humanoid Boogie
One Big Love
Charlie Don't Surf
Gingerly
Be Deep
Around Again
I'm So Inspired
Do What I Can
Open The Gates
Let 'Em In
...
The Beast in Me
Weirding
Spooky
Snuff The Torch
I Turned Into a Martian
Welcome to Paradise
Scary Monsters (and Super Creeps)
Am I Going Insane (Radio)
Godzilla
Lucifer Sam
Burn
The Werewolf Song
...
Set Times:
Show:
10:35 PM
–
11:15 PM
Be Deep
One Night
I Need Music
Music in the Air
Benefit
One More Last Chance
Open The Gates
Do-Wacka-Do
Dry Town
Such Is the Power of the Illusion
Set Your Soul Free
My Favorite Mistake
Things to Do in Denver When You're Dead
Do What I Can
On Top of the World
Living the Dream
Let 'Em In
One Night
The Other One
Hypnotized
...
Wooly Bully
Milk Cow Boogie
Your Party
I Need Music
Let Nothing Come Between You
Around Again
Charlie Don't Surf
Benefit
On Your Way Down
The New Cool Style is Totally Lame
Tulsa Time
Music in the Air
...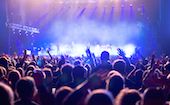 Ace Bandage
More from this Artist
Covers
Covered by
Artists covered