Lollapalooza fully dominated the city of Chicago this past weekend. The festival took place in the middle of the windy city at Grant Park, hosting over 170 bands on multiple stages in the span of four days. Amidst the chaotic weather, a wide array of powerhouse artists performed, and of those, plus the variety of after shows, we've selected a few impactful setlist highlights to recount. 
It wouldn't have been an authentic festival in Chicago without wild weather and spontaneous downpours. Rain unfortunately forced an evacuation of the festival for the first time in nearly five years. Headlining sets from the likes of Lorde and Muse were sadly cut short. The New Zealand singer-songwriter was only able to play three songs before leaving, and Muse was squeezed in four songs before ending their set with Hysteria including AC/DC's "Back In Black" as an outro. The band was forced to cut their set short due to severe lightning. 
In addition, former Oasis singer Liam Gallagher canceled his own set Friday. The vocalist abruptly exited the stage after performing only a handful of songs. He later took to his Twitter, apologizing for the cancellation, and detailing that he blew out his voice at a show the night before.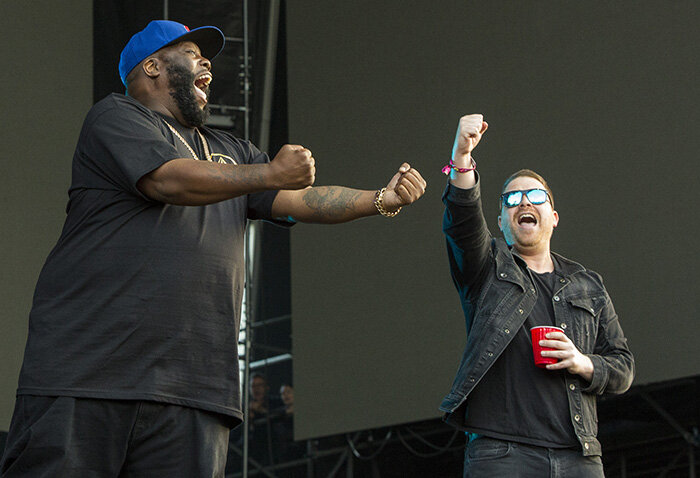 Run the Jewels opened their 15-song unabbreviated setlist with "Talk to Me" from their 2016 release Run the Jewels 3. The duo ran through the rules they had for their shows, including encouraging fans to take care of each other in the crowd, and warning audience members to keep their hands to themselves. "Don't violate women or we will punch you in your f*cking face," were their exact words, actually. The hip hop heroes also invited a lucky fan to join them onstage after seeing his sign, which read "Let Me Rap Legend Has It". 
Chicago native son Chance the Rapper took the stage Saturday, opening his 20-song setlist with the tracks  "Mixtape", "Blessings" and "Angels". Chance also included covers from Kanye West and Donnie Trumpet & The Social Experiment. Chance the rapper also brought friend and hip-hop peer Vic Mensa on stage for "Cocoa Butter Kisses." The South Side rapper did not allow his performance to be livestreamed because he wanted his performance to remain intimate even in a large scale festival setting. "I just want it to be me and Chicago," he said.
For more photos from Lollapalooza, follow Setlist.fm on Instagram.