Big Something
Concert

Setlists

& Tour Dates
The Undertow
Afterglow
Wildfire
Pretty Good
Pinky's Woman
Smoke Signal
Graham County Courthouse
Capt. D
Moonage Daydream
Megalodon
Escape (Intro)
TimeBomb
...
Pnuts Song
Track One
The Moonshine
Passenger
The Breakers
Fearless
It Comes Around
Vibrations
Tumbleweed
Alive
Song for Us
Mexican Home
...
Escape (Intro)
Sundown Nomad
Megalodon
Heavy
Bob and Weave
Kashmir
Pinky's Ride
Comedown
TimeBomb
Reunion
Love Generator
Waves
...
Blue Dream
UFOs are Real
Afterglow
Echoes
Pinky Goes to Jail
Wildfire
Brace for Impact (Live a Little)
Tumbleweed
Club Step
The Flood
Vasoline
Amanda Lynn
The Otherside
The Undertow
Waves
The Breakers
Head On/Pill
Vibrations
It Comes Around
Burning Down the House
And She Was
Psycho Killer
Crosseyed and Painless
Escape (Intro)
...
Machines
Pnuts Song
Saturday Night Zombie
Frankenstein
Pinky's Ride
Comedown
Pinky Goes to Jail
Pinky's Woman
Jose's Pistola
In Memory of Elizabeth Reed
TimeBomb
UFOs are Real
...
Fearless
Wildfire
Smoke Signal
Afterglow
Blue Dream
Love Generator
Sirens
In the Middle
Passenger
Big Poppa
Megalodon
A Simple Vision
...
Escape (Intro)
Sundown Nomad
Reunion
Dangerous
Plug
Heavy
Bob and Weave
The Ocean
Tumbleweed
The Flood
Amanda Lynn
Life During Wartime
Pretty Good
Bright Lights
Circles
Running Up That Hill
The Moonshine
This Must Be the Place (Naive Melody)
The Breakers
Nightswimming
The Undertow
Wildfire
Track One
Jose's Pistola
UFOs Are Real
Megalodon
Heavy
Another Brick in the Wall, Part 2
Blue Dream
Love Generator
TimeBomb
Waves
...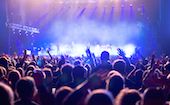 Big Something
More from this Artist
Covers
Covered by
Artists covered