Rob Laufer
Concert

Setlists

& Tour Dates
Coffee Blues
Lovin' You
Full Measure
Butchie's Tune
It's Not Time Now
Fishing Blues
Nashville Cats
There She Is
Pow
Darlin' Companion
Money
Rain on the Roof
...
Village Green Preservation Society
Do You Remember Walter?
Picture Book
Johnny Thunder
Last of the Steam Powered Trains
Big Sky
Sitting by the Riverside
Animal Farm
Village Green
Starstruck
Phenomenal Cat
All of My Friends Were There
...
Out of My Mind
Hung Upside Down
Down to the Wire
Burned
We'll See
Pay the Price
Sit Down I Think I Love You
Merry‐Go‐Round
Pretty Girl Why
Everydays
Four Days Gone
I Am a Child
...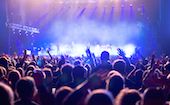 Rob Laufer
More from this Artist