Bad Religion
Concert

Setlists

& Tour Dates
Past Is Dead
Age of Unreason
Nothing to Dismay
Hello Cruel World
Big Black Dog
In Their Hearts Is Right
The Profane Rights of Man
Won't Somebody
Downfall
Meeting of the Minds
The Devil in Stitches
Dept. of False Hope
...
Kyoto Now!
Requiem for Dissent
Murder
A Streetkid Named Desire
Materialist
God's Love
Before You Die
Germs of Perfection
Submission Complete
Broken
The Empire Strikes First
Atheist Peace
...
Too Much to Ask
Leave Mine to Me
Sowing the Seeds of Utopia
Kerosene
Slumber
Parallel
Atomic Garden
Raise Your Voice
Skyscraper
Man With a Mission
Tomorrow
The Answer
...
Voice of God Is Government
Politics
Yesterday
Delirium of Disorder
Billy
Sometimes It Feels Like...
...You Give Up
It's Only Over When...
What Can You Do?
Part II (The Numbers Game)
Part III
Part IV (The Index Fossil)
...
Wrong Way Kids
True North
My Sanity
Crisis Time
Do the Paranoid Style
Land of Endless Greed
Robin Hood in Reverse
Chaos From Within
Dharma and the Bomb
Lose Your Head
The Resist Stance
Only Rain
...
Social Suicide
Los Angeles Is Burning
Dearly Beloved
Let It Burn
Epiphany
Supersonic
Prove It
Can't Stop It
Overture
Sinister Rouge
Let Them Eat War
The Defense
...
Come Join Us
Stranger Than Fiction
The Streets of America
Them and Us
All Fantastic Images
Modern Man
Struck a Nerve
Infected
Recipe for Hate
Faith Alone
No Direction
Generator
...
Bad Religion
We're Only Gonna Die
You Are (the Government)
Change of Ideas
Latch Key Kids
Henchman
Suffer
In the Night
No Control
Automatic Man
Along the Way
Big Bang
...
Generator
I Want to Conquer the World
Do What You Want
21st Century (Digital Boy)
Fuck You
Do What You Want
No Control
Generator
Fuck Armageddon... This Is Hell
Infected
American Jesus
Los Angeles Is Burning
Stranger Than Fiction
My Sanity
Sorrow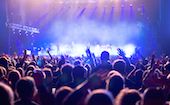 Bad Religion
More from this Artist
Covers
Covered by
Artists covered
Bad Religion on the web
Music Links
MBID