On September 22, 1972, the musical chameleon, David Bowie, brought Ziggy Stardust to America. Bowie made his US debut at the Public Auditorium Music Hall in Cleveland, Ohio. Accompanying Bowie was his band, the Spiders From Mars: guitarist Mick Ronson, bass player Trevor Bolder and drummer Mick "Woody" Woodmansey. Mike Garson also joined the U.S. tour as their keyboardist. Bowie and the Spiders From Mars were on tour supporting The Rise and Fall of Ziggy Stardust and the Spiders from Mars released just a few months prior. The band's set consisted of eight songs, including the timeless classic, "Changes," which he performed nearly 400 times, finishing as his eleventh most played song, according to our records. In addition, they played "Suffragette City," "Ziggy Stardust," and "Life on Mars," which according to our data ranks as Bowie's fifth, eighth, and tenth most played songs, respectively.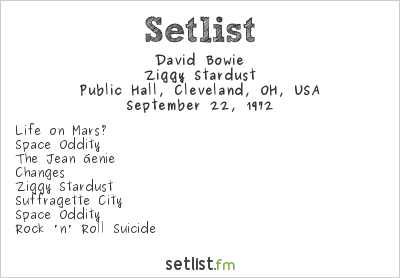 Shortly before her death in 2011, The Plain Dealer writer Jane Scott recalled the show: "He sailed over; he won't fly, his wife said. Orange-haired Bowie, one of the most important figures of '70s rock, seemed a little awkward at an earlier press conference, but after his smash show, he eluded his security guards and was eager to talk about coming shows. We reporters sensed that a star was born that night." Scott's assessments, as well as many others, predicted correctly as David Bowie became a pop/culture icon. A sold-out performance at New York's Carnegie Hall followed six days after the US debut. The smashing performance led the tour to extend for another two months. In just that decade alone, Bowie went on to release the albums, Aladdin Sane, Pin Ups, Diamond Dogs, Young Americans, Low, Heroes and Lodger. It goes without saying; Bowie was one of the most prolific musicians of all time.
While Ziggy was beloved by so many, in July 1973, things were about to change. On the last night of the Ziggy Stardust tour, at the Hammersmith Odeon in London, Bowie, told the crowd, "Of all the shows on the tour this particular show will remain with us the longest, because not only is it the last show of the tour, it's the last show we'll ever do." It was the end of one era, but the start of something new. And as we all know, Bowie turned into a worldwide phenomenon creating a legacy that will never be forgotten with generations to follow.