David Crosby is the gift that keeps on giving. The 77-year-old folk-rock legend has been creating since 1964. He's written iconic tunes across a number of bands and projects that is enough to last nearly a lifetime, but the prolific musician is still at it.
Crosby kicked off a 23-date solo spring tour last month and is winding down with just four dates left, wrapping up on June 16th. In just the past five years, Crosby has released four studio albums, deeming himself more productive than ever. Before this, he had only three solo albums under his belt.
In an Interview, Crosby elaborates on his progression:
"They've given me this talent to do it, so I have to do it. I'm 77 years old, and I have a limited amount of time, so I'm working very hard to do as much work as I can, while I'm still here. It's the only thing I can do, it's the only contribution I can make, it's the only place I can make it any better.
"Right now, things are pretty dark out there. It's not real good. And I, and we, need to feel like we can make it through the day. And music helps you do that."
Crosby's two-hour shows aid in that emotional escape. While the tour is an extension of his 2017 album
Sky Trails
, his latest output was actually 2018's
Here if You Listen
. But his 2019 solo tour has been a celebration of his entire 40 + year career in the span of two sets at each show. The sets normally consist of eight songs each (on average) and an encore. During a Crosby set, in addition to his solo work, you'll also hear cuts from his days with CSN, CSNY, CN, The Byrds, and CPR.
His Sky Trails band really helps to amplify these tunes and breathe new life into them. Crosby boasted about them, saying:
"This Sky Trails Band, is one of the best bands I've ever been in, it's an excellent band. We can play anything we can think of, and we can think of some really strange shit. But the joy is in making really great music. And these two bands make really good music."
Let's take a look at some of the tour's setlist highlights!
The tour opened up on May 10th in Minneapolis with a huge helping of CSN + CSNY songs. The night opened with "In My Dreams" and ended the first set on "Deja Vu."
The second set opened up with CSNY's "The Lee Shore" and also carried "Eight Miles High" by The Byrds. They book ended the set with "Almost Cut My Hair." The tour's encore has been staple CSNY track "Ohio."
Another exciting moment in the set came when Crosby live debuted a new and unreleased song titled "I Think I."
The tour also introduced bandmate Michelle Willis on lead vocals for newer track "Janet."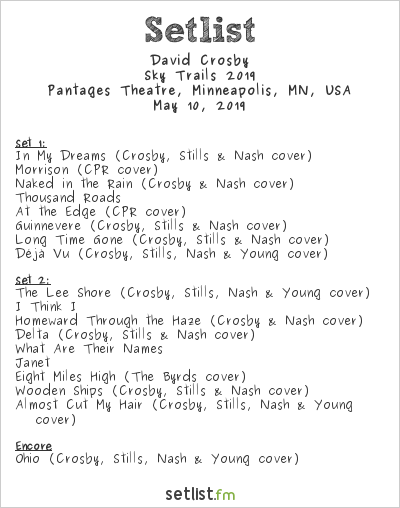 On
May 20th
in Melbourne, Florida, Crosby added in CPR song "That House" which he performed at a couple other shows thereafter.
On
May 30th
in Charleston, West Virginia, Crosby changed up the setlist quite a bit by swapping out some tracks to make room for "Tracks in the Dust," "Luck Dragon," and "Rusty and Blue."
On
June 1st
in Pennsauken, New Jersey, Crosby and co. performed "Cowboy Movie" off his most famous solo album to date,
If I Could Only Remember My Name
.
June 4th in Alexandria, Virginia
saw Crosby perform a heartfelt cover of Joni Mitchell's "For Free."
Peep Crosby's most recent setlist from June 10th here:
The hippie hero only has a few shows left on this leg, which is listed below. Crosby also announced another leg of the tour later this summer/fall, so if you have a chance to catch these, don't miss out on witnessing Crosby's timeless voice carry you into a sweet bliss.
David Crosby Remaining Spring 2019 Tour Dates
June 12th – New London, CT @ Garde Arts Center June 13th – Lebanon, NH @ Lebanon Opera House June 15th – Beverly, MA @ The Cabot Theater June 16th – Bar Harbor, ME @ Criterion Theater